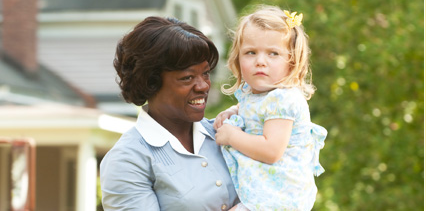 "That's all a grit is, a vehicle. For whatever it is you rather be eating."
That's what Aibileen says as she adds strawberries and whipped cream to Mae Mobley's grits to make them special for her birthday. Aibeleen is the best, isn't she?


And what she says about grits is so true. I can remember making grits when I was small, and loading them up with enough butter and maple syrup to fuel a small rocket ship. Luckily, this recipe isn't quite so weighed down.


I suspect that Aibileen started with grits that had butter and sugar in them. To healthify this birthday treat, I did not replace the grits, but I did leave out those other base ingredients. The only sugar in it comes from fresh strawberries, and the whipped cream is replaced with coconut whipped cream. Sweet and rich, my version is what I imagine Mae Mobley's birthday breakfast tasted like, with a slightly healthier list of ingredients.


I loved both the book and movie versions of The Help. It was all of the things a good story should be...touching, exciting, educational.

But goodness gracious, most of all I loved how so many things revolved around food. Caramel cake, chocolate pie, fried chicken. You can bet I'll be working on healthier versions of such things. When I put the book down, I couldn't wait for strawberries to be in season before I tried making this treat. And maybe you can't either. But if you can, you should. The strawberries make this dish.


The coconut whipped cream recipe should make enough for about four servings of strawberries 'n' cream grits. But the grits recipe serves one.

Full of healthy fats, antioxidants, and vitamins, this dish is as healthy as it is delicious. And is it ever delicious...


Strawberries 'n' Cream Grits

Ingredients:
1/4 cup instant grits
dash of salt
5 drops liquid stevia or other sweetener, to taste
1/4 lb. fresh strawberries, cleaned and chopped
coconut whipped cream (recipe below)

Combine grits with 3/4 cup water and salt. Heat on high in the microwave for 2-4 minutes, until grits reach your desired consistency. Keep an eye out that they don't overflow! Stir in the stevia.

Top with coconut whipped cream (recipe below) and strawberries.



Coconut Whipped Cream
Ingredients:
1 can full-fat coconut milk
1/4 tsp vanilla extract
5 drops liquid stevia
The night before you intend to use the cream, open your can of coconut milk and put it in the fridge, uncovered. This will allow all the fat to rise to the top. If you're lucky, like me, the parts will be separated as soon as you open the can. If that's the case, just scoop out the fat into a bowl, cover, and refrigerate overnight.
The next day, put the coconut fat into a mixing bowl. It should be fairly thick, like Crisco. Add 5 drops of stevia and the vanilla extract. Beat on high until well mixed and creamy.
Just like Mae Mobley, Maus turns 3 next Wednesday. I think I'll make her some of these grits to celebrate...and then eat them myself. ;-)
Want to join in? Just grab the image below to include in your
Fantasy Friday
post, and link it back to this page. Be sure to leave a link to your post, so we can see what fantasy world you've recreated!